What could be nicer during seduction than the first kiss? It is unthinkable for me to skip this moment, unless it makes you feel uncomfortable. I would be happy to show you what a true French kiss is, from a true French woman…hint…they are soft and caring, not a dental exam!
We can have as many intercourses during our time together as you like, but I don't accept oral without protection nor do I accept to have anal performed on me.
Also I don't feel safe with many men at the same time, I prefer one-on-one dating.
I have no favorite practice. For me each person is different, we arrive with our own experiences, likes and dislikes, and we must create a beautiful moment together. Something I enjoy with one person may not work with another, but there is always a way to find what suits our chemistry best.
Outfit
Most of the time I wear a dress, which is how I feel the most at ease. It's up to you to tell me what you wish to find once you've taken it off…bra, thong, pantyhose and suspenders or simply nothing! Some men like when I come dressed simple: jeans, sneakers…
I need to warn you: I totally messed up my "feminine education". Even though I read women magazines, I'm still not a big fan of shopping. Spending time every day thinking about how I can match every item (rings, necklace, tops, bottoms, shoes, bag) just bothers me. I prefer basics: a nice dress with boots or sandals, a jean with a t-shirt…
And please, forget about a classy bun or other nice and glamourous hairstyles, I'm not really good at that. I swear I have tried. I have spent hours on Youtube, looking for the perfect tutorial but I have to face the truth: I'm not Jacques Dessanges. However, if you want to fund hairdressing classes for me, do not hesitate! Maybe we could finally do something with my mane.
Whether I am at a hotel or at your place I try to be as inconspicuous as possible so as not to draw attention to myself from neighbours or receptionists. So, if your wish is to see me in something a little flashy, don't be taken aback if I show up at your door without it on…once behind that door I will change my outfit to suit your desires.
Even though I can appreciate the outfits of my colleague strippers, I do not like to wear such things as miniskirts or platform shoes. I like to consider my style as elegant and understated.
Times and Places
I can join you at your place or at a hotel.
Fancy hotels or restaurants are not a must, as it is not satin sheets or silver spoons that make for a wonderful evening, but the charming company and conversation. However, some of you like to have a nice place so I'm going to help you find it.
Some hotels can be booked for a few hours at noon and in the afternoon (and sometimes in the evening), you can find them on website like Dayuse. On VeryChic you can get beautiful places with good prices.
For those who want more than a classic hotel room, we can meet for an evening/afternoon in a nice appartement with a jacuzzi or spend a night in a tree house (I love that, above all during spring or summer)
Concerning my schedule: I can be available starting noon (I am never available in the morning except when we meet for a night or more, of course).
I do not meet up with anyone after 9:30pm. I don't have a problem with our time extending until midnight as long as we meet earlier in the evening. This allows for enough time for us to get to know one another and I'm more at ease when this can be done before 9:30pm.
I'd rather not meet up after work dinners, as I have had the experience of lovers who have arrived intoxicated and belligerent, even though their texts and messages were kind and polite beforehand.
How it goes?
I like to start with a conversation and a drink so we can break the ice and create a nice connection. It's really important so as to create a bond and have more fun when we jump under the sheets. Sometimes, I've had some men who have jumped on me just when I passed the door and must admit that it blocked me: we have time and I need a moment of exchange to be comfortable with you. If you are too impatient with me when I've been here for 10 minutes, I assure you that I'll carry out mechanical sex and I think it will spoil the entire date. How do you want a shared pleasure if you don't allow me the time to get to know you? I am not a robot, let me have some time before we get undressed.
What I'm going to say may seem weird but I like to discuss if we are going to eat something together or not. I'll explain myself: if you want to see me from 7pm to 9pm and you don't provide food, you have to tell me that so I can eat before I join you (I really hate being hungry, please don't let me suffer). And if you spent all your day cooking delicious things for me, it would be really annoying if I arrived with a full stomach.
While we are in bed, I find it really important to communicate. I don't know you, I don't know your preferences and what can be exciting for someone is not necessarily exciting for another (I have seen men being turned off by things that usually turn on other men). Don't be shy, and share with me how your body reacts.
It's also important that I share with you what I could like. But, please avoid everything that could be painful (you can read about that HERE, it's in French but I'll translate it later) and do not be rough as it makes me tense (and it will stop any possibility to have pleasure with you). I like to imagine sex as rock'n'roll. I don't know if you have ever done couple's dance, but I have had some partners who spent time at the beginning to guide me. Once our bodies were connected, we could do other tricks or go faster. However, I have also had some of them who were not looking for a connection, they just threw me everywhere on the dance floor and I had to avoid people and walls..and the floor. Needless to say: I was not enjoying the moment, and most often, I quit after one dance. For me, in bed it's the same: if you pin me up against the wall, the chances of hurting me are high. If you manipulate me like if I am a doll I'm not going to appreciate. If you try to push my legs into splits, I'll just wait impatiently for the end of our date… I understand that, sometimes, excitation is too invasive and we get carried away, but do you really want me to stay with only a bad memory of our date? Personally, I prefer going back home with a nice smile on my face, thinking of our magical date rather than thinking about calling my osteopath as soon as I can, to fix my body.
I'm caring, natural and happy but if I find out that my limits and my well-being are not as important to you as they are to me, trust me, I am not going to force myself. I refuse to play, even if I'm paid. I've chosen you because you hit my heart and aroused my curiosity with your words and your universe. If you deceive me by behaving like a jerk, it will be easy for me to make you understand it.
Meeting in public
Some like to first meet me for a drink or meal to break the ice or just to have company. Time spent together does not have to be in a bedroom. Going to the theatre, walk around the city, play golf… the sky is the limit! You can also have some ideas on the page "Overnights and long dates"
I must insist however that I refuse any physical displays of affection in public. I enjoy my private life and even though the city is big and beautiful there is always the possibility that either you or I may come across someone we know, and unwelcomed stress can be a complete put-off.
I do not feel comfortable accompanying you on business dinners or conferences, as I am not a very good actress, especially if you want to introduce me to your colleagues as your secretary or girlfriend, and certainly not if it is the first time you and I have met. Hyperventilation is guaranteed for me! I would rather like when our relation is just for the two of us. I don't want to invent a life (I remember somebody who told me, "it's gonna be easy" because he would introduce me as his personal interior designer… I really know NOTHING in design, I can't even match colors and I have had the same couch for 12 years!). I also don't want to talk to your colleagues, your family or your friends (even with a huge amount of champagne). But, when I'm at ease with somebody, when our relationship begins to be more intimate and friendly, when we know each other well, I can agree to be introduced as "a friend" to some of your other friends or if we come across someone you know.
I am not an exhibitionist; therefore, no acts will be performed outside of a bedroom. This is where I feel the most comfortable and I can completely let go.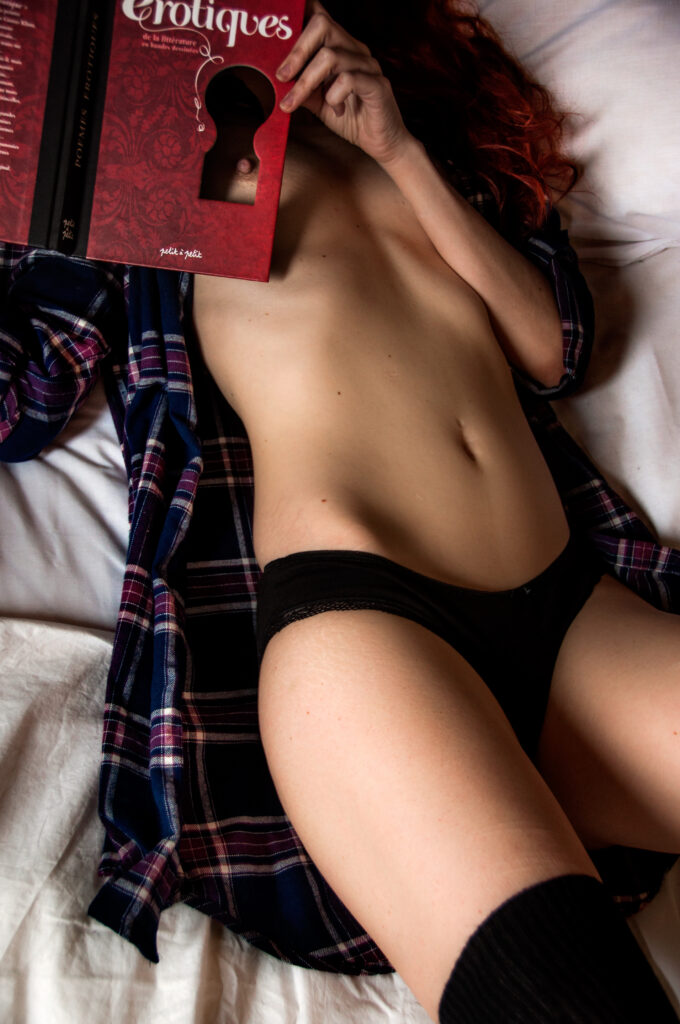 Couple
I'm really into women, so ladies, if you want a beautiful moment with me, just for you or with your partner, you have to know that you will light up my day! I invite you to read the page "Couple" to know more about my wishes and my conditions.
Toys
Although I do not accept anal on myself, I have no issues with using a strap on for you, I also don't mind golden showers but only if I am giving them.